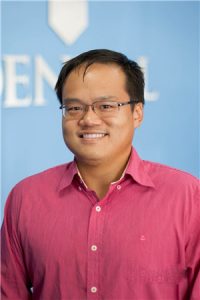 Tom Supakorndej, DDS
Dr. Tom Supakorndej is a native of the South. He grew up in Athens, GA, home of the UGA Bulldawgs. Like everyone in his hometown, he bleeds red and black but knows the value of southern hospitality.
Dr. Supakorndej attended Emory University in Atlanta, GA, one of the top 20 colleges in the country, where he earned his Bachelor of Science degree in chemistry. He then attended the University of California San Francisco School of Dentistry, one of the top 5 dental schools in the nation, where he received his Doctor of Dental Surgery degree. He has also obtained a Fellowship in Implantology from the University of Texas Health Science Center in San Antonio.
"The reason why I chose the health profession is my deep commitment to helping others, and that passion drove me to acquire skills that would allow me to heal, repair, and restore a person's oral health. Through the years I have seen how I can improve a patient's psychological and emotional health by improving oral health. But a dentist is more than just fixing teeth and filling holes. A successful dentist treats the whole person and is mindful of a patient's needs, so that when a patient sits in the dental chair, he or she feels important, valued, and cared for. During my dental encounters there is nothing I enjoy more than helping a patient feel like there is no other person more important than them. I also show others around me respect, sincerity, and love so that the experience for me and for those with whom I work is positive and rewarding."