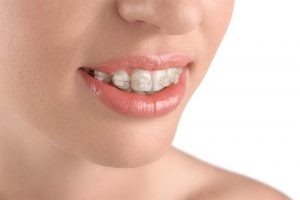 What makes Six Month Smiles® so amazing? 
Dr. Tom Supakorndej and our team have put together a list of answers to frequently asked questions for Six Month Smiles®. We invite you to call Diamond Dental Family And Implant Dentistry at 512-351-9313 if you have further questions or to schedule your appointment with our dentist in Austin, Texas.
What does the treatment involve?
During your first visit, you will be fully assessed and your dentist will take some photographs, X-rays and examine your smile. Your dentist will also give you an indication as to whether the Six-Month Smiles treatment is suitable for you and the likely treatment time and costs involved.
Following this, you will be fitted with the special Six Month Smiles braces, which are small, white brackets, and special wires that come directly from the Six Month Smiles laboratory in the United States.
After your first fitting, you will visit your dentist every 4-5 weeks for short 10-15 minute appointments for regular adjustments of your braces until the end of your treatment.
How is it possible to straighten teeth in six months?
Six Month Smiles utilizes the latest technology and techniques in orthodontic dentistry to move your teeth in a manner that is both quick and safe.
The treatment focuses on moving the teeth that show when you smile rather than all of your teeth, and it uses special nickel titanium wires to achieve this.
Will Six Month Smiles brackets show?
The Six Month Smiles cosmetic braces system uses tooth-colored braces and wires that are only visible when close-up. They are not noticeable in everyday pictures.
They are not like train-track braces; however, they are more visible than clear braces like the invisible braces system – but the benefits of completing treatment in a fraction of the time outweigh this.
Is treatment painful?
Like any orthodontic treatment, there will be some discomfort when you start the treatment, but over time you will become accustomed to it. What sets the Six Month Smiles adult braces apart is that they use low force to move teeth more comfortably.
Six Month Smiles adult braces utilize standard orthodontic mechanics but with an emphasis on the cosmetic appearance of your teeth rather than the position of your bite. It may be advisable to take some mild pain killers such as ibuprofen during the first few days of your treatment.
Will Six month braces affect my speech?
During the first week or so after having your braces fitted, your speech may be affected and you may salivate a little more than usual, but it should soon return to normal.
Will I have to wear a retainer after Six Month Smiles treatment?
All orthodontic treatment requires retention afterwards to reduce the risk of relapse. Your teeth have a tendency to move back to their natural position and retention will prevent this. Your dentist will either provide you with a night-time removable retainer to wear, or you can be fitted with a permanent bonded retainer on the back surfaces of your teeth.