A smile is the most beautiful thing you can wear 
Laser dentistry can enhance your smile in comfort 
Our skilled dentist at Diamond Dental uses lasers in several of our treatments. Laser dentistry allows us to provide you with treatments that are less invasive, more comfortable, more hygienic, and require less healing time post-treatment. To learn more about the benefits of laser dentistry in Austin, Texas, and schedule a consultation with Dr. Tom Supakorndej, please call our office at 512-351-9313.
---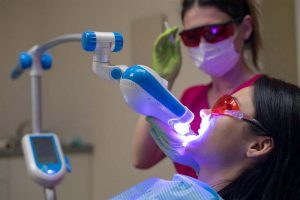 Laser dentistry is one of the most advanced treatment techniques utilized at Diamond Dental. Our dentist has chosen to use lasers when providing your treatments because they are highly effective and very hygienic, and because they produce excellent results without causing you undue pain or discomfort.
Dental lasers have the additional benefit of reducing your healing time and decreasing your risk of infection following a procedure. Lasers are extremely precise, minimizing bleeding during oral surgery and enabling our dentist to treat specific areas of your mouth without causing damage to any nearby tissues.
Lasers are useful in a wide variety of dental treatments across all areas of dentistry, from simple cosmetic procedures to advances periodontal and restorative treatments. Some of the most common treatments in which lasers are used include:
Treating periodontal disease
Hardening dental fillings
Removing decayed or damaged tooth tissue
Treating cold and canker sores
Enhancing teeth whitening treatments
Cosmetic gum shaping
To find out how laser dentistry can benefit you and to schedule your consultation with Dr. Tom Supakorndej, please call our office today.