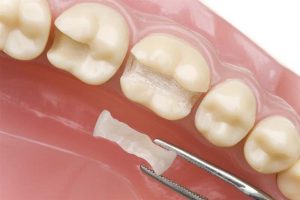 Do you have a cavity? 
Cavities are small holes in your teeth caused by decay. When you visit Diamond Dental Family And Implant Dentistry for your regular appointments, our dentist will check your teeth for any signs of tooth decay. If he finds a cavity, we will provide you with a tooth-colored dental filling to repair the damage, strengthen your tooth, and give you back a healthy smile.
We invite you to give us a call at 512-351-9313 to learn more about the benefits of tooth-colored dental fillings in Austin, Texas, and make your appointment with Dr. Tom Supakorndej.
---
Dental fillings, sometimes also known as dental bonding, is a treatment that works to repair minor to moderate damage caused by tooth decay. Cavities occur when the bacteria in your mouth emits a decay-causing acid which eats away at the tooth enamel until it creates an opening in your tooth. If left untreated, this decay can spread and become much more severe, until it eventually causes you to lose the tooth. Cavities are often characterized by pain or increased tooth sensitivity.
Dental fillings restore the tooth to its original structure and help prevent the spread of decay before it can cause serious damage to your smile. Our skilled dentist uses only tooth-colored materials when providing your dental fillings. Not only does this ensure that your tooth looks completely natural following treatment, but it also requires less removal of your original tooth structure, giving you a healthier and more conservative overall treatment.
Dr. Tom Supakorndej can complete your treatment in just one appointment. He will first remove the decayed tooth tissue and clean the affected area. The filling material will then be placed and shaped. Finally, the filling will be hardened to providing a long-lasting solution and polished to complete your treatment.
If you have questions about dental fillings, or to schedule an appointment with our caring dentist, please call our office today.