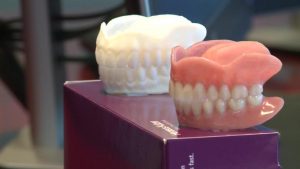 Digital dentures will give you the perfect fit.
It looks amazing, and it can be replaced very quickly and for a very low cost, should it get lost.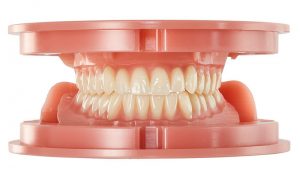 How are digital dentures a better fit than traditional dentures?
Digital Dentures are designed using computers and modern CAD/CAM technology. Advanced robotics cut the denture. There is zero distortion with this technique. The results are superior fitting dentures that are perfectly adapted to the shape of your mouth.
Traditional dentures are made from a wax model. Wax shrinks and expands, depending on the outside temperature. This creates distortion and imperfections. Traditional dentures are also made from liquid acrylic resin. As the liquid resins harden, it further distorts, by as much as 9%. These two processes – wax and acrylic distortion – contribute to ill-fitting dentures.
Easy Replacements
Your dentures records are stored in the form of a digital file. Should you ever lose your dentures, a new one can be printed out immediately. No need to go through the process of taking new impressions and doing wax try-ins.
It takes approximately one week to get your replacement dentures. The cost of reprint is approximately 25% of the full denture.
Price of Digital Dentures
The manufacturer price fluctuates throughout the year. Our price of digital dentures are lower than what many clinics charge for traditional dentures.