Quick, comfortable, and effective – laser gum treatments help reduce periodontal disease and restore your oral health 
Laser gum treatments in Austin, Texas, are a highly effective way to combat periodontal disease and begin the process of regaining a healthy smile. Laser gum treatments are often faster and more comfortable than traditional gum surgery, giving you a minimally invasive and much more hygienic treatment overall.
We invite you to call Diamond Dental Family And Implant Dentistry at 512-351-9313 to learn more about the benefits of laser gum treatment and schedule your consultation with Dr. Tom Supakorndej.
---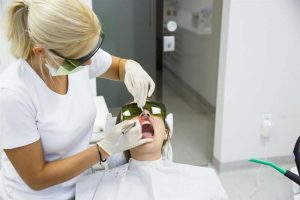 When you develop periodontal disease, your gums become infected and inflamed. If you do not receive treatment, the disease progresses until it causes tooth loss, bone loss, and gum recession. If your condition become severe enough, Dr. Tom Supakorndej may recommend a laser surgical gum treatment.
Traditional gum surgeries involve the use of a scalpel and sutures, and can often be very painful. When you receive a laser gum treatment, however, these problems are minimized. By using a laser, our dentist can perform very precise treatments to eliminate the harmful bacteria in your mouth, reducing your discomfort, minimizing bleeding and pain, reducing your risk of infection, and speeding up your recovery time following your procedure. In fact, you may not even need anesthesia!
Laser gum treatment performs 3 primary functions:
Killing disease-causing bacteria
Removing infected tissue
Encouraging the growth of new, healthy gum tissue
We welcome you to contact our office today to learn more about the benefits of laser gum treatments and schedule your consultation with our skilled dentist. We are committed to helping you combat periodontal disease so that you can once again enjoy good oral health.