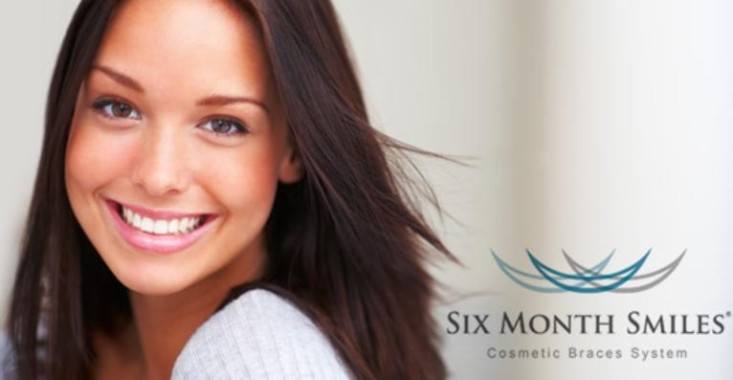 Straighten Teeth in 6 Months, Not 2 Years
Complete your orthodontic treatment in record time with Six Month Smiles®!
If you, like so many other adult and teenage patients, have been waiting for a short-term orthodontic treatment that can deliver long-term results, your wait has come to an end. In just 6 short months, you can achieve a straighter and healthier smile with an orthodontic system that won't disrupt your busy lifestyle or make you feel embarrassed to smile during treatment.
Traditional metal braces are unsightly. Who wants to smile and show metal mouth? Six Month Smiles® offers the perfect combination of clear braces and tooth-colored archwires, giving you a treatment that is both effective and discreet, and which will produce beautiful results that you can enjoy for a lifetime.
Dr. Tom Supakorndej has helped countless patients achieve straight, healthy, and beautiful smiles through the Six Month Smiles treatment. We invite you to call Diamond Dental Family And Implant Dentistry today at 512-351-9313 to schedule your consultation with our skilled dentist in Austin, Texas, and find out if this treatment is right for you!
---
How Quickly Can You Transform Your Smile?
Here's a brief look at our results. All photos are of actual Diamond Dental patients, and all have experienced a dramatic change in their smile.
Click on the photos to see Before & After pictures
---
What is Six Month Smiles?
Six Month Smiles short term orthodontics is revolutionary orthodontic treatment. While most orthodontic treatments focus exclusively on straightening crooked teeth, Six Month Smiles takes the additional approach of ensuring that you can enjoy a more natural appearance during  your treatment as well as after. Six Month Smiles relies on Lucid-Lok® clear brackets and tooth-colored wires, making it every bit as effective as traditional braces but significantly more discreet. In fact, your Six Month Smile braces may be barely visible to others!
Because Six Months Smiles Lucid-Lok brackets and wires are able to generate movement in teeth that are difficult to move, it can be used to treat some of the most complex cases. Traditional clear aligner trays have difficulty moving certain types of misaligned teeth, but Six Month Smiles Lucid-Lok system has little trouble with such movements. The end is improved results.
Additionally, Six Month Smiles has an average treatment time of – you guessed it! – only six months! This treatment also uses the Six Month Smiles Patient Tray Kits™ to ensure that your appointments are fast and comfortable.
Beyond being merely quick and discreet, Six Month Smiles has several other benefits. Some of these benefits include:
The use of braces in your treatment, which has been proven to provide the most conservative and predictable final result
Low forces and short overall orthodontic treatment times increase comfort, safety, and hygiene
Six Month Smiles invisible braces is typically less expensive than traditional braces, aligner therapy, or veneers
Please give us a call today to learn more about the benefits of Six Month Smiles and to make your appointment with our dentist. We are excited to help you achieve a more beautiful smile!