FREE Brand Name Dental Implants, Dental Implants Austin
Highest-Quality Dental Implants utilizing the Latest Technology and Innovations: 3D X-Rays and Ultra-Strong Dental Implants 
FREE Dental Implants This will be the most aggressive discount for dental implants you can find, and we are a very respected clinic in Austin, Texas. We are a dental practice with very heavy emphasis on oral surgery, and no other company can beat our pricing on BRAND NAME dental implants. We will give you dental implants for free. All you have to purchase is the abutment and crown. That's a saving of over two thousand dollars per tooth. Offer limited to stock on hand.
Our company's reputation is based on doing quality work. We are family owned/family run, and each patient gets personal attention. We've partnered with some of the country's top dental implant manufacturers, so we can provide you the highest quality dental implant for a much, much lower cost than market price. Best of all, if your restoration isn't successful and it's our fault, we'll redo it all for free, from start to finish. That's how serious we are about our work quality. Please schedule your appointment online by clicking HERE.
For those patients that want the absolute best, I have:
The Ultra-Strong Dental Implant Package. This includes:
Latest Generation Titanium-Ceramic Alloy Dental Implant, or High-Density Titanium dental implants. Both are much less prone to breakage or fracture than traditional titanium dental implants.
Titanium or Ceramic Implant Abutment
Aesthetic, Virtually Unbreakable Implant Crown
Implant Surgery
Lifetime Manufacturer's Warranty
Ideal for patients with weaker bone
Specialty work, such as bone grafting and sinus lifts, is done at HALF the market price. Everything is done in-house and without referrals.
Everything's very aggressively priced. You will pay much less, while getting a brand name dental implant. Purchase and payment of the abutment and crown is required before implant surgery, and no refund is offered should you decide you no longer want the crown and abutment.
It's best to come in for an exam. The 3D scan will tell us what needs to be done to restore your smile. We have many, many dental implant systems available at many different price points. Whether you're looking for functional, no frills implants or top-of-the line, I've got you covered.
Our exam cost is FREE and our 3D X-ray special for new patients is $100. The 3D x-ray is required, because the information it provides us is critical in planning your case. We charge a small fee for x-rays, because exceptional results only come from careful studying and good treatment planning. We do not do sloppy work. During your exam, we will analyze the quality of your bone: your bone thickness, width, and density. We will choose the optimum implant system for your case. Appropriate components will be chosen to optimize the life of your new tooth. If you also need bone grafting, we can help you with that also.
Dr. Tom Supakorndej has partnered with several of the worlds top implant manufacturers to provide you with the highest quality dental implants available in Austin. We can also offer these services at competitive prices. Additionally, we are one of approximately 15 dental clinics in Austin, Texas, to utilize 3D X-ray technology when planning your procedure and placing your implant posts. We are able to identify the ideal dental implant type and the ideal location for its placement. Using the right technology can go a long way, and we want our dental implants to last forever.
Give us a call today at 512-351-9313 to find out more about our dental implant innovations and schedule your exam online HERE!
---
Diamond Dental Family And Implant Dentistry has partnered with major dental implant manufacturers to provide you with the highest quality implants at a reasonable cost.
SLA Technology is a modern dental implant technology. The surface of the implant is very highly textured, creating more surface area and therefore increased bonding with the bone. SLA technology reduces standard healing time by approximately half.
SLActive is an improvement on SLA technology. It is an advanced implant surface designed to bond even faster with bone, reduce healing time further, and increasing the predictability of implant treatment. You can have a crown placed within weeks of implant surgery, instead of having to wait the 6 months necessary with traditional dental implants.
Titanium-zirconium alloy provides improved strength over traditional titanium implants, offering a new option for patients with limited bone or narrow spaces between teeth. This new alloy creates a much stronger dental implant, less likely to fracture and fail over time.
Can you tell which tooth is an implant?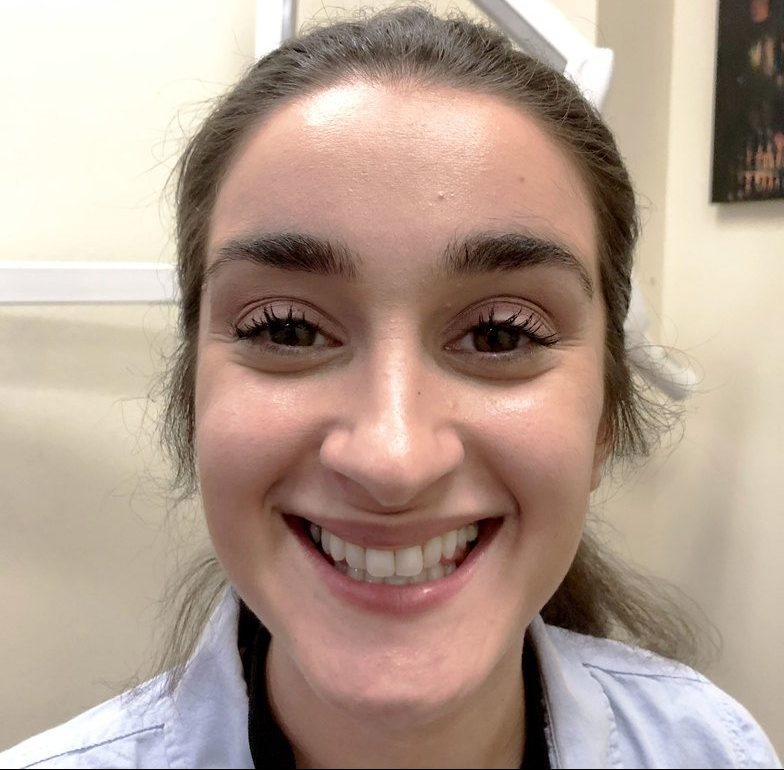 Kortney S. was born without some of her front teeth. Then, she decided to get dental implants from Diamond Dental, and we transformed her smile. Dr. Tom's reputation is based on quality dental work. She opted for the highest quality implant we had, since it's a front tooth. This case was designed carefully from start to finish using 3D x-rays and modeling. The result was better than Kortney anticipated.
Please call our office or book an appointment online HERE!